The minute you walk into Mvua Spa, your senses are treated to a wave of calm. All elements from the wall color, decor the scent in the air, and sounds are purposefully thought-out to give you a multi-sensory experience.
While many of us dream of "spending a day at the Spa", work-load, deadlines, limited time, and budgetary constraints often do not allow for valuable extended periods of time out of our homes or workplaces and thus essential wellness can be compromised.
If you're in need of me-time but you have limited time or you are a Mum with a newborn baby you do not have to worry! Our trained Therapists can recreate a Relaxation paradise in your home and will offer your favorite spa treatment at the comfort of your home. Mvua on the Move means that Wellness & Relaxation is accessible to all.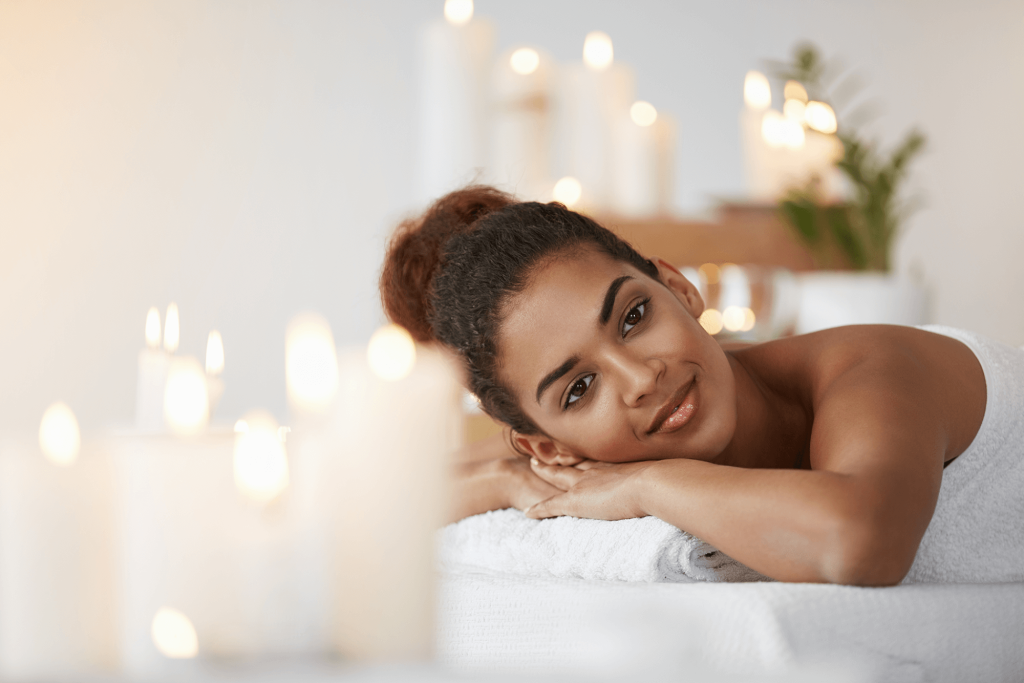 Looking after your physical and mental well-being is of utmost importance, especially during these trying times, so make sure you set aside a few hours every month to ensure relaxation and an overall sense of well-being. You can also create spa experiences with your fellow housemates, partner or alone.
Create a Sanctuary
Find a space that you would like to dedicate as your "spa at home" This may be your extra, bedroom, home office or any place you can shut the door and escape for a few hours will do just fine. Now the next thing is to book your favorite spa treatment, just call Mvua Spa.
Now to decorate.
The Mvua team will arrive 20 minutes before your treatment schedule to recreate your room into a relaxation paradise by adding cushions, scented candles, luxurious bath robes, a pile of wellness magazines, and gorgeously scented products. Nothing is stopping you from going the extra mile by adding champagne on ice.
Cozy Gown
A fluffy gown and comfortable slippers scream, "spa day" and is of course an essential part of slipping into complete relaxation.
Aromatherapy Candles
Not only do they create an ambiance of calmness, warmth, and relaxation but their scents are specifically formulated to inspire the mood you crave. Scented candles that use quality essential oils can promote relaxation, reduce anxiety and stress and induce quality sleep.
Soothing Sounds
Ever wonder what sets the tone of a spa day? Soothing nature and instrumental sounds instantly put your mind at ease because these soft and repetitive tunes is something you easily zone out to.
Home Pamper Journeys
Mvua Spa offers a wide range of decadent pamper journeys which will revive your senses, rejuvenate your body and soothe your soul at the comfort of your environment. Pamper Journeys include:
African Rejuvenation full day pamper journey
Welcome cocktail to "kick start" your journey @ 0800H
Spa Pedicure and manicure to sooth your feet and hands .
Your choice of a Revitalizing Full Body Exfoliation (scrub)
Herbal Cocktail to "kick start" the next treatment
Full Body Massage with or without Hot Stones to soothe tired muscles
Tasty 2-course Spa Luncheon to feed body & soul
Complimentary Local Beverages to quench your thirst
Rejuvenating facial treatment depending on your skin type
Foot & hand massage for the ultimate "time-out" pamper
Nail polish (Normal or Gel) Application
Farewell Beverage and Treat @ 17H00
Pick any of these fantastic spa-at-home journeys or you can tailor-make your own pamper journey, imagine how you will feel, Imagine the luxury, imagine chilling out in style and enjoying the pampering !!
This could be you –. Stop dreaming about treating yourself, just book your spa day with Mvua on the move and enjoy some time away from the busy of everyday life! Blissful!